Braces wearers can pick a single color for braces. But, they can also get Braces Color Combinations.
You can choose braces color combinations that have significance. Pick two or three colors and make a combo that can be a representative for a season, festival, holiday, and a special occasion such as independence day, new year, Christmas, Halloween, and Easter.
However, everyone's taste isn't the same. But, there are a lot of options for you. You can check the available braces colors to get an idea.
In this article, you'll get ideas about which color combination for braces you can choose.
Braces color combinations for guys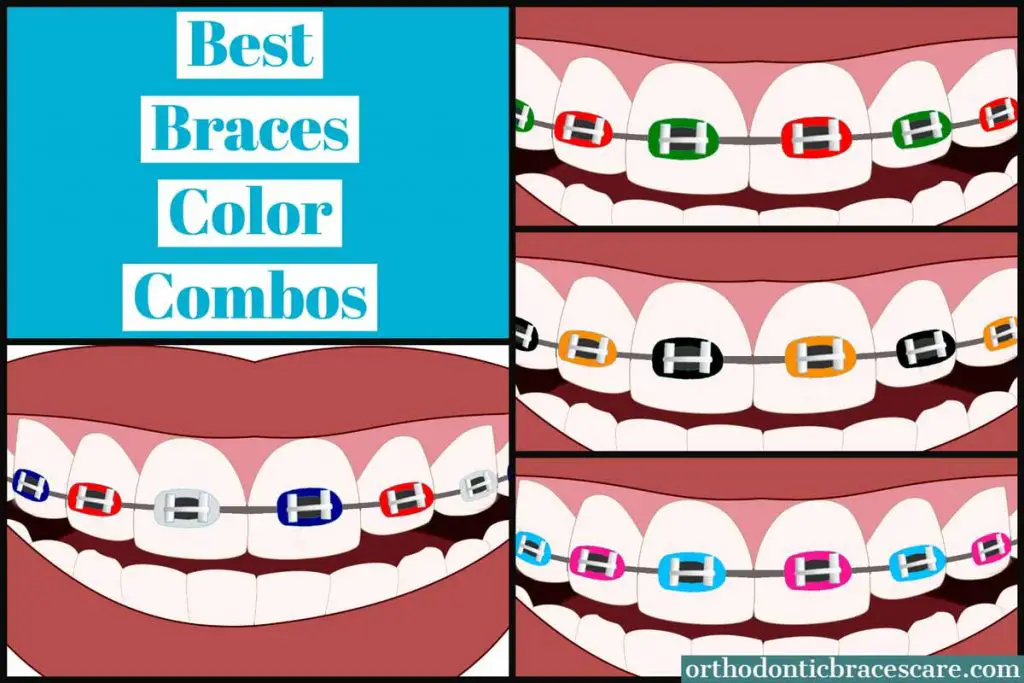 Boys don't care much about the clothes or accessories they wear. But there is nothing wrong with wearing colorful braces, rather it can make you look smarter.
Boys usually prefer blue braces. However, they rarely like to choose different color combinations. But, some braces colors suit boys well. Boys can use the following color combinations-
Dark blue + Red
Blue + Orange
Red + Light blue
Red + Black
Navy + Sky Blue
Get a complete guide to choose braces colors for boys.
Braces color combinations for girls
Girls are very concerned about how they look. So, whether it is clothes or ornaments, they are picky about choosing their design or color.
So they think a lot and search online to see which color they like to wear. They do the same with the braces colors.
Girls usually choose pink color braces. They also like red, blue, and green. Again, the girls prefer a combination of different colors. The color combinations that girls can use are-
Pink + Neon Green
Red + Blue
Aqua + Yellow
Pink + Purple
Get a complete guide to prefer braces colors for girls.
Braces color combos for adults
Usually, adults don't like to wear the combo. They like to wear neutral colors. However, neutral colors aren't always a good choice for braces.
Some of them can make your teeth look yellow and some may look get stained. But, sometimes they may pick a combination to signify special events.
The occasion for which adults choose braces color combo are – Independence day or Breast cancer awareness month.
You can also pick a certain combo for the new year and Christmas to make your children happy.
Read our other article to get a complete guide to pick braces colors for adults.
Braces color combinations for dark skin
Bright jewel color braces suit well with the dark skin tone. For dark skin tone following a combination of colors can be good options:
Red + white + blue
Blue + orange
Red + Blue
Black + Orange
Green + Yellow
Red + Green
Red + white
Get more color ideas for dark skin.
Braces color combos for light skin
People with light skin tone may prefer lighter colors like light blue or light pink. They may also consider brighter colors like dark purple or subdued reds.
Some great combination of braces colors for fair skin tones can be:
Navy + Red
Blue + Orange
Violet + Pink
Red + Light blue
Red + Black
Light purple + Light blue
Get more color ideas for light skin.
Braces Rubber Bands Color Combinations for the Holidays
You can change braces colors from time to time. So, you can take the opportunity to get a certain combination of colors for a certain occasion. Let's take a loot at that.
Christmas day
On this day people celebrate by wearing different colored clothes and accessories. You can also make your braces colorful as well if you want.
The special colors for this day are red and green. You can use red and green combinations to represent the day.
The color red represents blood and love while the green symbolizes everlasting light and life. People of all ages can wear braces of this color on that day.
Red + green
Red + white
Green + white
New year's eve
Another great festival is the new year. People wear beautiful outfits on that day. As this day is colorful, you can also make it special, even with braces.
Again, if you have bought a special outfit for the New Year, you can choose the color of the braces by matching it with it.
Here are some combination of braces colors for new year's eve-
Red and white
Green and yellow
Red, white and green or yellow
Red and green
Gold and red
Blue and silver
Silver and white
Yellow and green
Gold and silver
White and gold
Easter
This is another popular festival like Christmas and you can also choose a combination of braces for that. You can match braces colors with your Easter Sunday dress or outfits. You can pick
Pink, violet, or blue for this special day. You can make the combo in the following sequence:
Pink + blue + pink + blue
Violet + pink + violet + pink
Violet + pink + blue + Pink + Violet + Pink + Blue
Independence day
On Independence Day, everyone shows respect to their country and the national flag. You can wear braces of certain colors to honor the day.
So, pick a combination of red, white, and blue colors for the 4th of July, if you are an American.
Here, red represents hardiness and valor, white represents purity and innocence, and blue symbolizes vigilance, perseverance, and justice.
This colorful braces elastic can be used not only by children but also by adults for the significance of the day.
Hanukkah
A bright color combination can be a great choice for Hanukkah. The classic color for Hanukkah is blue and white.
So, you can pick the same combo for braces. Blue is an amazing option as a braces color. By mixing it up with silver or white, it could make you look smart.
However, you have to be careful of white, as it can get stain easily.
Blue and white
Silver and blue
Valentines
On Valentine's Day, you can surprise your boyfriend or girlfriend by wearing a beautiful combination of braces.
You can choose the color to match your outfit. But, the most suitable color combination for this day is red and white or purple and white or red and purple.
Pink + red
Red + white
Purple + white
Pink + white
Halloween
The special color for this day is the combination of black and orange. If you want, you can pick a combination of black and orange colors.
Usually, boys like the orange color but anyone can use this combination these days.
Braces color combos for special events
Sports events
Those of people who like sports can choose braces colors like the color flag or jersey of their favorite country or team.
Boys in particular prefer to do it. For example, during the World Cup, Brazilian fans can wear yellow and blue, and Argentine fans can wear blue and white.
Similarly, if you are a supporter of a club football team, you can wear clothes like the jersey of that team. For example, a Barcelona supporter can wear dark blue and dark red.
Again, Liverpool supporters can wear red and white. You can choose the color of the clothes in the same way even during other games.
For example, during the Olympic Games, you can read your country's flag-colored jam. If you are an American citizen, you can wear red, white, and blue.
If you are a resident of Britain, you can wear red and blue clothes.
Breast cancer awareness month
Adults usually choose a color for braces that carries a deeper significance. One such occasion is Breast Cancer Awareness Month.
October is this special month. People can choose a combination of white and pink to show respect to cancer surviving women. Both boys and girls of any age can use it.
Thanksgiving
You can also prepare your braces for a Thanksgiving. Colors for these holidays are orange, yellow, red, and brown.
So, make a pair of these colors and Think about whether it suits you.
Color combinations are
Orange + brown
Red + yellow
Brown + Red
Yellow + brown
Costume of superheroes for kids
Kids love many superheroes in the movie or comic world. So when they choose the color of the braces, they want to select the color just like the costume of their favorite superheroes.
The combinations are-
Spider-Man: Red + blue
Superman: Red + yellow + blue, Red + Blue
Batman: Black + Yellow
Iron Man: Red + Gold/Yellow
Braces colors combo based on daily outfits
Braces wearer can match the color of the outfit you use every day while choosing braces color.
Again, if someone has a professional outfit, he or she can match it.
Kids can pick colorful braces to match their school or college uniforms.
Braces color combinations for different seasons
Some people like to choose a braces color that signifies the season. Different colors can be representative of different seasons.
Those who also wear outfits based on the season can pick a color complementary color to the outfits.
Speakings about the season, natural beauty, and festivals contribute to choosing a color combination.
Summer
Many beautiful flowers bloom in summer. Moreover, this is the season when you ger various fruits.
Take inspiration from the colors of the fruits and flowers and make a combination of colors.
You can also consider the natural beauty of summer. Neon colors are great from this season. It can help you to symbolize the sea and sand color combo of summer nature. The combo can be followings:
1. Light blue + silver
2. Green + hot pink
3. Aqua + Yellow/gold
4. Bright blue + Red
Check out the following article to get a complete list of braces color combination for summer:
31+ Unique Braces Color Combinations for Summer.
Autumn
Warmer colors such as orange, burgundy, yellow, and brown are suitable for autumn. Think about decoration materials of the season like turkeys or pumpkins. This is also the time for Halloween. So, pick a combo that signifies the day.
Pick one of the following braces color combos for autumn
1. Orange + black
2. Brown + orange
3. Dark yellow + burgundy
Winter
Braces wearers love to consider richer colors for winter such as purple or dark blue. This is the season of different festivals.
So, you can pick colors that symbolize festivals such as Christmas, New year, Hanukkah, and Kwanzaa.
Go for one of these braces color combos for winter:
Red + Green
Dark blue + purple
Red + dark blue
Blue + Gold
Red + black + green
Blue + white
Dark blue + Gray
Spring
People usually like to pick lighter colors for braces such as pink or light blue. If you are thinking about a combination, you can get ideas of colors from spring nature.
Spring is popular for beautiful flowers as they start to bloom. Take inspiration from the color of a spring flower and make a combination.
You can also consider sports colors, as baseball season starts in this season. Choose the combo based on the colors of the jersey of your favorite basketball team.
Braces color combination for spring are-
Red + purple
Purple + pink
Pink + blue
Pink + Yellow
Blue + yellow
Purple + silver
Blue + green
Takeaways
You can choose a combination of colors for braces rubber bands. Boys and girls may not pick the same combo. However, there are special types of braces color combinations.
Someone can consider the season or special events to pick a combo. Just inform your orthodontist in advance that he or she gives you the colorful bands on the appointment before the event.