An interesting fact is that among all the braces wearers girls use colorful braces the most. But, you may want to know, "What are the best braces colors for girls and how to choose them?"
Girls have to consider several factors to pick the appropriate braces colors. Choose the color for braces in a way that complements your skin tones, age, daily outfits, and teeth shades.
Moreover, try to pick a more meaningful color that makes you beautiful as well as represents your personality.
In this article, you can learn the way to make the right decision and choose the perfect braces colors for girls.
Also, get a list of the best braces colors for girls.
What are the best braces colors for girls?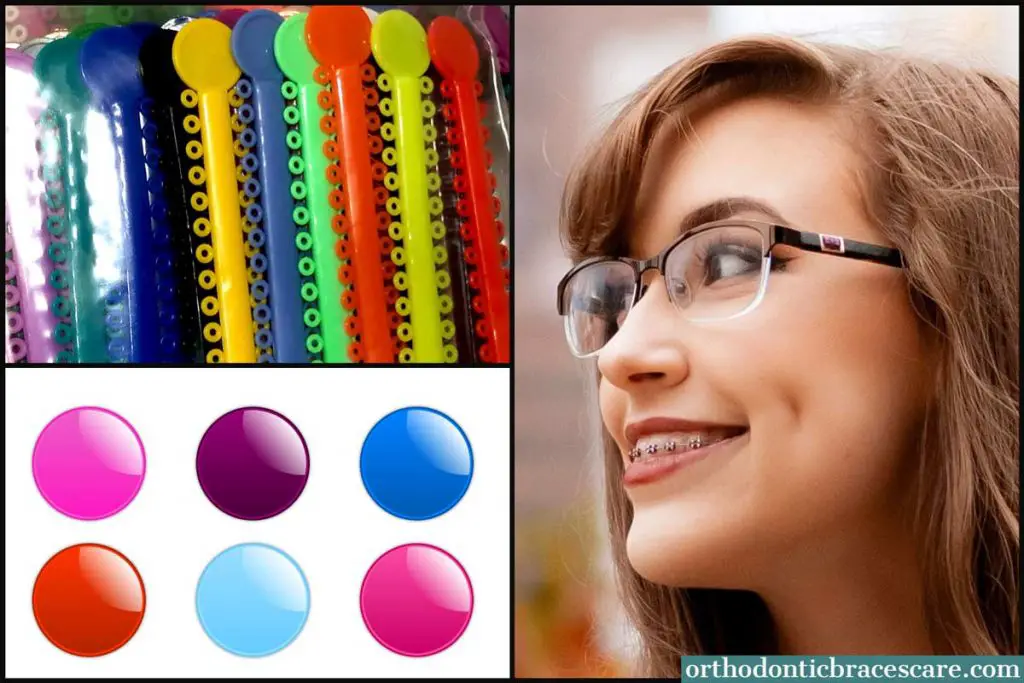 Here are the best braces colors that can be considered as the best for girls:
A girl with a lighter skin tone can pick pink, light blue, subdued red, dark purple, or silver.
A girl with a dark skin tone can choose pink, dark blue, turquoise, violet, gold, or navy.
Girls should avoid yellow, brown, clear, and white colors because they don't make your tooth look white.
The most popular braces colors for teenage girls are light pink, pink, purple, and red.
A study was performed to know which colors of braces people like more. It found those female patients like purple and red color bands more.
You should choose a color so that your teeth look whiter. So, you should pick a darker color if other factors don't conflict with your choice.
Let's know about the braces colors and that can be great options for the girls. You can use them as a combo as we have given below.
Purple and Pink: One of the most popular combos that makes your smile beautiful, You can also use these colors solely.
Pink and Neon Green: Many gis like this watermelon combo.
Aqua and yellow: You may wonder why yellow is here. If yellow is your favorite color, you can use this combo.
When girls can pick colorful braces?
A girl hates those metal look of braces when they smile. So, she waits for the time when she can make them colorful to look beautiful. So, when does that time come?
It's not that you wear colorful brackets or wires. What happens here is we give you some special types of rubber bands or elastics, called ligatures that are colorful.
We place them on your brackets to hold them in position and prevent them from hurting your skin.
Here is the interesting part. Before putting on the bands we give your the freedom to choose the color you like for braces.
So, you can take the opportunity and make your teeth look good.
When you wear those metal braces, you don't look so good. But, picking a beautiful color can do the opposite.
So, take your time to choose the best one for you so that your friends can say, "You look beautiful".
How often can girls change braces colors?
Usually, your orthodontist suggests you visit every 6 weeks for an adjustment procedure. At that time, you can change the color of the braces.
That means, for adjustment work, he or she removes the old ligature or rubber bands every 6 weeks.
You can tell him or her before the appointment that you want to change the color.
However, the adjustment date may vary depending on the type of case and treatment planning.
Braces colors available for girls
When you go to your orthodontist, you can get a braces color wheel to choose the color for you.
We have one for you and you should check that before you make any decision.
Get the braces color wheel.
This color wheel helps you pick the perfect color for you. The various brand provides various types of colors.
You can pick a shade from about 20 different types.
But, all the colors aren't suitable for girls. Some look better than others.
Essential factors girls should consider choosing the braces colors
Here are the essential factors a girl should think about before making the final decision regarding braces color.
1. Make a list of your favorite color
We can suggest to you what looks good or what's not depending on various factors. But, if you don't like that at the end of the day, it's not effective.
Choosing the color that you don't like, make you feel uncomfortable.
So, consider the color you like the most.
What you should do is look at the braces color wheel and make your own list of colors.
Arrange them in order of the most favorite one to the least.
They follow the way we discussed here and choose the one the looks the best on your teeth.
However, don't be too emotional. This leads to the wrong choice.
An example of that is yellow or brown color. Even though you like them, these colors make your teeth look ugly.
So, take the time to decide.
2. Skin tone
Girls know how skin color is very important to choose something to wear whether it's clothes, ornaments, or eyeglasses. It's also the same for the color of braces.
It doesn't matter if your skin color is dark or fair, what matters the most is color matching between skin and braces.
A girl with a dark skin tone should pick bold jewel tones for braces. Examples of the colors are – violet, turquoise, navy blue, emerald, orange, gold, neon, fuchsia, and pastel colors. As most girls like pink color, you can also try pink.
Get more ideas for the dark skin tone.
Girls having fair skin tone can choose darker or brighter color braces. These colors can be- light blue or royal blue, light purple, pink, plum, raspberry bronze, red, salmon, and violet.
Get more ideas for the light skin tone.
3. Hair colors
Girls usually have long hair. So, it's important to match the color of the hair with braces. Even, if your hair is short, matching can give you a better look.
Keep in mind that your hair color is fixed which is the part of your body. Though you can change the color of your hair, it's not wise to change the color from time to time only to match with braces.
But, you can change braces color easily and pick a color that complements your hair.
So, before picking a color take a look at your hair and compare it with braces color.
A girl with black or darker hair can wear darker jewel color braces. Blonde can wear bright or dark colors. However, pastel colors are the best choice for blonde hair.
4. Lips color
Just like skin tone, the tone of your lips is also a very important factor to pick a braces color. If the color of your braces isn't adjusted with lips color, you may not look good when you smile.
You can use cooler color braces if your lips are fair colors, and
You can use bold jewel tones if your lips are darker.
5. Color of eyes
Girls like to wear matching dresses, eye lenses, and ornaments. It can be also a good idea to choose a color for braces that compliment the eye color.
Although it's not so important, you don't need to wear colorful eye lenses only for braces. It's much easier to pick a braces color that compliments your natural eye color. But, what's look good?
Let's take a look at some example that may help you-
Blue eyes: Pink, Blue, and lilac color braces
Green eyes: Purple, Orange, Red, and green color braces
Brown eyes: Dark blue, and dark green color braces
6. Teeth color
Brackets and rubber bands, all keep in close contact with your teeth. So, it's most important to adjust the color of bands with your teeth.
We should choose a color that makes our teeth look whiter. Bad selection can give it a yellow or ugly look.
Some girls want white braces thinking they will make the tooth brighter. But, they make your teeth stained or dull looking.
Choosing yellow or brown color cause the same problem. So, you have to choose the darker color bands so that your teeth look whiter.
However, be careful before choosing yellow or brown colors. These colors seem like foods are deposited on your teeth.
7. Age consideration
Color for women
Usually, women wear lighter color braces, as they want a more personal look. They also want to represent their personality. But, don't take some lighter colors that look like staining. as it can look like stains.
Braces color for child girls and kids
If you are planning to choose a braces color for your child girl, you aren't right. You can help her to decide the best color. But, you shouldn't do it for her.
Wearing braces isn't a good experience for kids. Choosing a color for braces is the time when they can finally get excited about it. So, let them pick their color. But, you can guide them to do that.
Colors for teenage girls
Teens like to choose colorful braces. They usually like combo colors. They can make a good decision by considering other facts we discussed here.
8. Personality and profession
These are more important for an adult. However, everyone should consider their personality. You shouldn't pick a color that doesn't go well with your personality. The school girls can choose a more colorful color whereas an adult can pick neutral colors.
9. Be careful of choosing the wrong colors of braces
Actually, there is no wrong color if we speak about braces. But, there are a few problems in picking certain colors. Avoid the following colors-
Clear or transparent bands – You may want these thinking that they look clean. But, they change their colors over time, as foods get deposited between brackets and teeth. Moreover, drinking coffee or sodas also causes staining of braces.
White bands – These bands can also change color. There is another major problem with them. When you choose white elastics, your teeth look yellow.
Yellow and brown bands – These colors make your teeth look dull and stained. They look like plaques have accumulated on your teeth.
Special considerations for girls to choose braces colors
1. Match your dress up, jewelry, and style
A girl loves to wear matching dresses, shoes, and jewelry, even matches hand parse. So, wearing braces that match the color of the dress you wear usually or complement your style.
If you like to wear darker color dresses the most, you can pick light blue, light pink, red, or navy.
However, if you like to wear brighter color dresses the most, you can choose blue, bright pink or green.
You can also take out your favorite jewelry and pick a matching color for braces such as silver or gold.
Take a look at your daily outfits and decide the color for braces from those colors. But, what about an adult? An adult can pick a neutral color that matches any type of outfit.
2. Ask your close ones
If you have a boyfriend or husband, he is the best person who can help choose the color of braces. At the end of the day, you want to make him happy, or you would love to wear that color which he likes the most.
3. Enjoy the season
You can pick a color that is more meaningful. It can complement the season. Here are some ideas-
Neons, Juicy pinks, tangy teals, and pastels color for Summer. You can get 31+ ideas for summer from our other article.
Monaco blue, robbin's egg blue, petal pink, violet, Poppy red, emerald, and Mint green color for Spring.
Arctic blue, plum purple, emerald, and shimmering silver colors for Winter.
Cobalt blues, dark reds, vibrant orange, gold, and school colors for Autumn.
4. Special occasions and holidays
If there is an upcoming event, occasion, or party like a school dance, wedding, new year, or Christmas day, you can choose special colors that are more meaningful for that day.
You can pick a combination of colors for these events. Here is the list for that-
Valentine's Day – Combination of White and Red or Purple
Independence Day – Combination of Red, White, and Blue or, Red and Blue
Halloween – Combination of Black and Orange
Easter – Pastel colors like Greens, Blue, and Purple
Christmas – Combination of Dark Green and Red
Get more braces color ideas for special events.
5. Following your favorite actress or idol
Many girls like to wear those color combinations for braces that their favorite film actress wears. Some follow their idol. You can also do that but, you have to be careful. But, why?
Your favorite actress may look beautiful with a certain color. But, it's not necessary that you'll look the same. So, it's more important that you look perfect with the braces.
How to prevent braces from changing color
After getting the color of braces you love, it's not that you got the color permanently. That means it's your duty to keep the color look good.
You have to clean your teeth and mouth properly or, foods get stuck or deposited between your teeth and braces.
As a result, you will have more plaque, and your teeth will turn yellow. This makes you look ugly.
In fact, this may damage your teeth permanently and stains your teeth more after the ending of orthodontic treatment.
Summery
Generally, girls like to wear light pink, light blue, or red color braces. You can also choose colors like neon green or purple.
But, you should stay away from white, yellow, and brown colors, as teeth look yellowish.
However, before choosing a color for the rubber band for braces, you should consider factors like skin tones, styles, outfits, age, personality, and most importantly your satisfaction.
You can also go for the combination of colors that we have mentioned in this article.
If you like the ideas, PIN it.