Sometimes you need to protect your gums or cheek from braces. So, you get dental wax. But, when you run out of braces wax or want to ignore it for some reason, you ask, What to use instead of wax for braces? What are the alternatives to wax for braces?
The best alternative to braces wax is dental silicone wax. You can also apply beeswax or cheese wax that can be available at your home. Though braces wax is the best option to protect the soft tissue of your mouth from braces, you may need an alternative when you run out of wax and you need to protect your cheek and gums from rough and broken braces or wires.
However, you should always try to use the best orthodontic wax (2023), because an alternative may not be as effective as the wax.
But, still, an alternative can help you in an emergency. So, you should know about that.
Let's take a look at the best product (with price) or DIY materials that can be used as an alternative to dental wax for braces with my recommendation.
5 Best alternatives to braces wax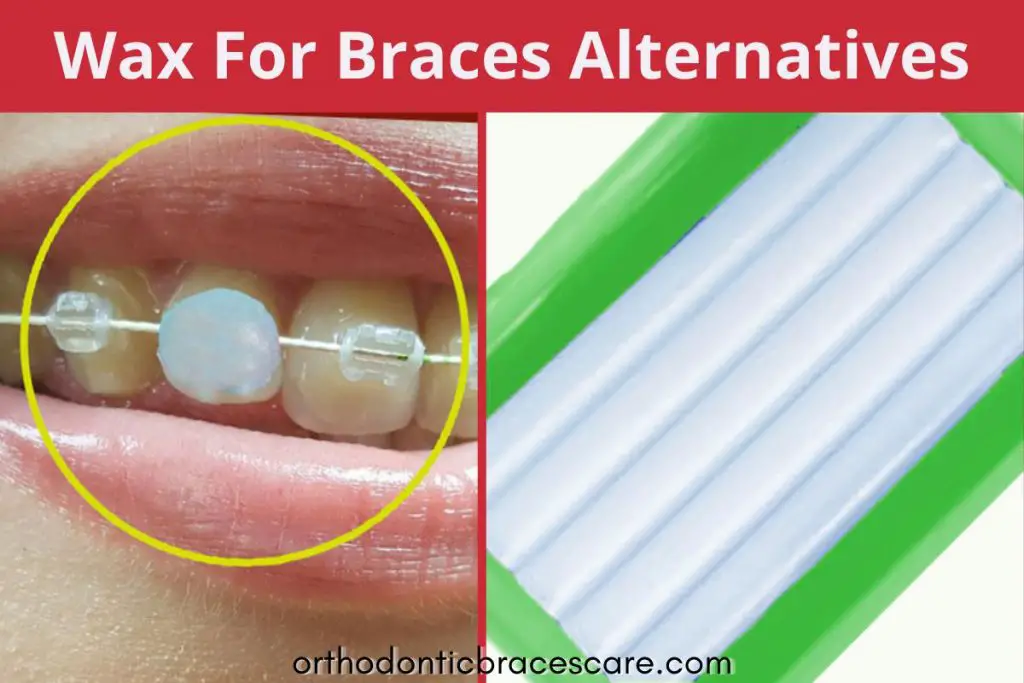 Dental wax works best on braces and sticks well. Some alternatives can do the same, but they can't do as well as orthodontic wax. But, you can definitely try one of the following.
1. Dental Silicone
This is popular and probably the best alternative to dental wax. The dental silicone is impermeable to fluid. That means, saliva, water or fluid can't pass through it.
So, you don't need to replace it frequently. It's available in a strip or dot form and you can apply it easily to cover the rough metal brackets or poking wires.
Simply speaking, silicone can help your cheek and gums from getting hurt and reduce pain and discomfort. This product is transparent and gives you a pleasing appearance.
However, dental wax is the best in terms of stickiness. But, if you don't like too sticky wax, it can be a great choice for you. Besides, it can hold loose brackets or wires in place nicely.
So, you can use it until you don't visit your orthodontist to fix it. Try dental silicone and find out if this works well for you.
Here are the top two dental silicone which you can use for braces.
i. OrthoDots CLEAR Silicone – The Best Alternative
This dental silicone is the best-selling dental silicone for braces. OrthoDots new product has got a lot of positive reviews. The specialty of this dental silicone is you need to dry off the brackets before applying them.
They claim you can apply it to a wet surface. However, if it doesn't stick on too wet surfaces, I suggest you make the surface dry. Using the wax is very easy and comfortable.
The silicon prevents saliva and water from passing through it. As a result, it lasts longer.
If you ask for an alternative to wax, many orthodontists recommend this product.
How to use dental silicone:
Here are the steps to use dental silicone with braces
1. Wash your hand and clean your mouth properly.
2. Ensure that your mouth, braces, and hands are dry, though you don't need to dry it much if you use OrthoDot.
3. Take a dot of silicone from the pack and hold it with your two fingers.
4. Touch the affected area of the brackets and gently press the silicone dot to cover the bracket completely. The dot has two sides. Use the adhesive side to pinch it to the bracket.
Pros
Easy to apply
Easy to remove
Comfortable to use
More transparent in appearance than wax
Sticks on wet surfaces and better than before
Consists of Biomedical-Grade Silicone
Contains a moisture-activated adhesive layer
Creates a barrier between braces and the soft tissue of the mouth
Help reduce pain and irritation by protecting gums and cheek from rough metal braces
More hygienic
Highly pliable and moldable
Cons
May not stick well if the surface is too wet
Little bit expensive
ii. Orthodontic Silicone ORTHOSIL – Good choice
This is another dental silicone. But, it's slightly different from the previous product. It comes in sheet or strip form like dental wax. However, it acts in the same way as those dots. This product also got good reviews and many users recommend it.
How to use:
Wash your hand with soap and make them dry. Then, clean your teeth and mouth properly and make it dry as well. Take a small portion of dental silicone from the strip.
It should be adequate enough to cover the affected area of the braces. Use your finger to roll it and make a small ball just like applying dental wax. After that slowly touch that area of braces with the ball and push it gently.
Pros
Clear in appearance and waterproof
Stick very well if you can apply it to a completely dry surface
Made of medical-grade silicone
Provides colorful carrying cases
Comfortable to use
Provide a buffer between braces and soft tissue and relieve pain and irritation
Cons
Needs to dry off the surface well before applying
Takes more effort to remove because of stickiness
Relatively softer
2. Beeswax
If you are looking for a natural alternative to dental wax for braces or sometimes that is in your home, beeswax is the one. In fact, beeswax is one of the best alternatives to braces wax if not the best. This wax can be used if you are in an emergency or if you run out of dental wax and can't get the dental wax immediately.

You may be surprised to know that beeswax is one of the ingredients of orthodontic wax. It's soft and easy to mold. So, you can apply it with ease. Besides, you can remove it easily from the braces. Beeswax is safe to use and harmless. This wax may last better than other alternatives.

How to apply
Just take a pinch of beeswax and roll it with your finger. It will absorb the heat from your finger and change its shape quite easily. Then, make a small ball and stick it to the affected brackets and wires.
Pros
Made of natural wax
Works more effectively than other alternatives to braces wax
Lasts for a long duration
Soft and easy to apply
Easy to clean
Safe to use
Easy to get
Cons
Not as effective as dental wax for braces
You can store beeswax at your home during orthodontic treatment. It can help you for various purposes as well as an alternative to dental wax during an emergency. But, keep in mind that, it's not the alternative to orthodontic wax.
3. Cheese wax
The wax that covers the cheese can be a great alternative to dental wax for braces. Orthodontists also suggest this technique when you run out of orthodontic wax. Use the same technique to apply the wax.
Take a small piece of cheese wax and warm it for a few seconds. Then, roll it and make a small ball to apply it. This sticks to braces very well and creates a barrier between braces and the soft tissue of the mouth. Cheese wax is safe to use and harmless.
4. Candle wax
You can use candle wax in an emergency. Break a piece of wax and make it warm with your fingers. Mold it and make a small ball before applying it. Candle wax sticks nicely to braces and protects your cheek and gums from the braces.
Though it's non-toxic, you should prevent it from swallowing. The ingredients of the candle wax may not be healthy for you. So, be careful.
Besides, this wax can break down easily and expose the braces because it's hard in nature.
5. Sugar-free Chewing gums
Applying chewing gums on broken brackets or poking wire can be an alternative idea. You may not be allowed to chew gums with braces on your teeth, but you may take help from chewing gums if it's an emergency like getting seriously hurt from popped-out wire and there is no other material at your home.
It can relieve your pain and irritation by protecting your cheek and gums temporarily. But, you must use sugar-free chewing gums to protect your tooth from tooth decay.
Take a small piece of chewing gum just like dental wax, make a small ball, and put it on the braces. Use your finger to mold the gums while applying just like wax.
Also, make ensure that you use new chewing gum and don't chew gums before or after applying.
However, you should try to avoid using chewing gums on braces, because it's too sticky and can't be removed from braces so easily. Only use it, when you have no other option available.
Bonus tips – Halloween Wax Fangs
Another interesting alternative but very effective is Halloween Wax Fangs or Big Red Lips. These waxes are pliable, non-toxic, and safe to use.
You can break a small portion and apply it using the same method you use to put dental wax. You may also like this substitute as they are flavored just like orthodontic wax. Moreover, you can get it from a local candy store anytime.
Why should you use alternatives to dental wax for braces?
Dental wax should not be substituted with a different material. When you run out of dental wax, however, and a wire from your braces breaks or pokes your cheek, gums, or the back of your mouth, you should utilize the alternatives.
In those situations, you shouldn't let braces or wire hurt your cheek and gums continuously. It can cut your soft tissue and cause bleeding and other complications.
Moreover, you may have to face any kind of problem while wearing braces. So, if you don't have dental wax, make sure that you have one of these alternatives at your home or you get one.
When do you need to use braces wax alternatives?
You may need one of these alternatives to orthodontic wax when you don't have dental wax or a delay in product supply. Sometimes, people also look for an alternative when they want to stay away from the wax for some reason. In the following situations, you may need to apply the alternative to orthodontic wax.
Broken braces brackets
Popped out wire
Wire poking back of the mouth
Cheek or gums cut by pokey wire
The metal surface of the braces rubs the cheek and gums
Which braces wax alternative should you use?
If you can't buy the dental wax right now for some reason or if you don't like the orthodontic wax for some reason, you can go with the dental silicone such as OrthoDot or OrthoSil that we listed above, though we like OrthoDot.
Make sure you have cheese wax or beeswax on hand, though, if you need a substitute that will help you out in an emergency. But, always remember that orthodontic wax is the best solution to protect your cheek and gums from rough or broken braces.
You can also check out our recommended dental wax mentioned below. If can try this one of you are worried about better stickiness and effectiveness of wax with braces. It's also very affordable and one of the best products today.
Can you put Vaseline on braces instead of dental wax?
A lip balm or petroleum jelly (e. g. Vaseline) isn't a good alternative to dental wax because it will melt and disintegrate soon and therefore, won't be very effective. However, if you have chapped dry lips due to braces, petroleum jelly or lip balm can provide relief.
Final thought
You can try various alternatives to braces wax to protect your cheek and gums from braces and reduce pain and irritation. Dental silicone, beeswax, and cheese wax are the best alternatives to braces wax. But, dental wax works way better than any other substitute.