You get chewies after getting Invisalign aligners to place the trays properly. But, when you run out of chewies for aligners or you need to buy them, you ask, what is the best Invisalign chewies and Where to buy Invisalign chewies?
The orthodontist may give chewies once during the Invisalign treatment. After that, you look for a product that is similar to the one provided by the orthodontist. Here, you have listed the best products available online so that you can collect them and use them any time you want.
But, you should know the price, packages and most importantly the quality of the products before you buy them. Here, I have provided a list of the best chewies with a complete guide.
But, you should check our other article first to know if Invisalign chewies really work.
Top 7 aligner seaters or chewies for Invisalign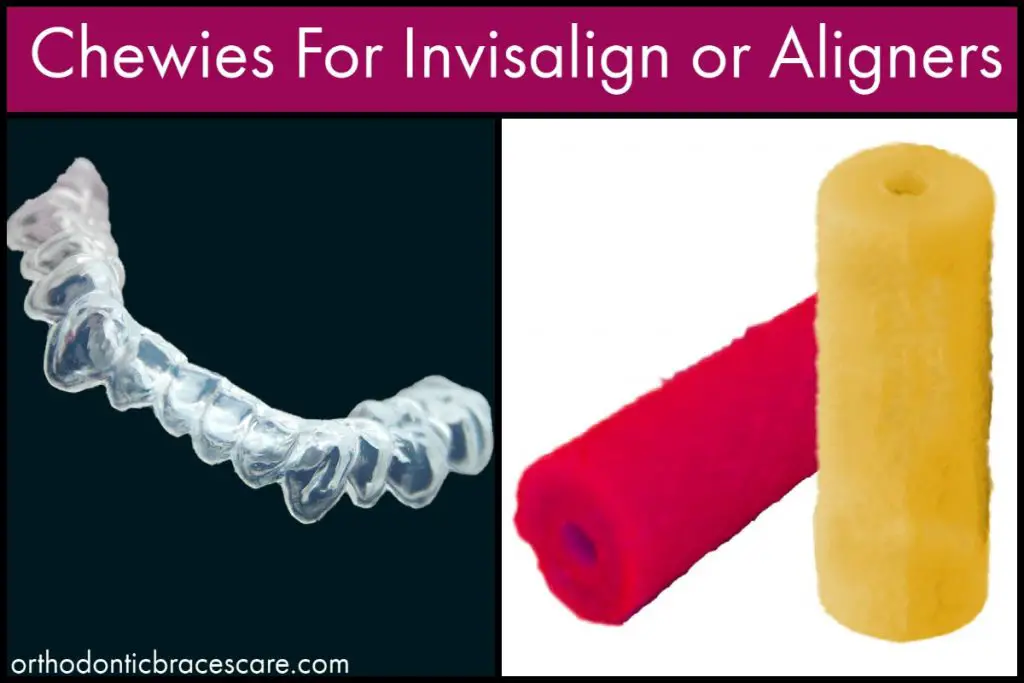 Here are the top 7 chewies for Invisalign:
1. JES Orthodontics Chewies for Aligners Trays (different colors and scents) – Editor's choice
This product is highly rated and one of the most popular aligner chewies. People who have used it say that this product is just like the one provided by the dentist.
Moreover, It's a top-selling aligner seater and users recommend this. The price is also very reasonable.
You can use the aligner seater with Invisalign trays and any kind of clear aligners. They work effectively to help seat the trays and produce tooth movement fast.
Moreover, it's the top brand for chewies with a lot of positive reviews. Compared to other products, it's more durable and lasts longer.
Available colors and flavors are:
Green – Mint Scented,
White- Unscented,
Pink – Bubble Gum Scented,
Purple – Grape Scented,
Yellow – Pineapple Scented.
Pros
Freedom of choosing a specific color and scent.
Easy and safe to use
Hygienic and provides Individual tamper-proof bags
More durable and longer-lasting
Compatible with any kind of clear aligners.
Cons
Light scents or favors
Products
Mint flavored – JES Orthodontics Green Chewies for Aligner Trays
Bubble gum flavored – JES Orthodontics Pink Chewies
However, if you are a fan of JES Orthodontics chewies and want an unscented version of chewies, you can go with their unscented chews as well.
Unflavored – JES Orthodontics White Chewies for Aligner Trays, Bag unscented
Check out How to use these Invisalign chewies.
2. IXO Aligner Seater Chewies With Grip handle (Unscented) – Great choice
Many people don't like those mint or other scents. They want odorless or flavorless chewies. If you are one of them you can have this product from another well-known brand.
It also has a great review, almost similar to the previous product I have discussed. Specialties of these aligner chewies include Grip Handle.
This helps you hold the chewies nicely and make the process easier. An additional advantage is you get a free carry case with the aligner seaters and much cheaper.
It can place the aligners effectively and move your teeth faster. This product does not feel the same as the product given by the orthodontist.
But, you have to keep in mind that it's very cheap. So, if you are concerned about the money, you can go with it.
Pros
Provide Flattened Surface With Handle (included in the new design)
Much easier to use
Cheaper and provides convenient package
Included Clear Plastic Case to store the chewies
Safe to use
Easy to clean
Vacuum sealed and hygienic
Longer lasting than much similar product
Cons
Products
IXO 5 Pack Aligner Seater Chewies With Grip Handle for Invisalign Aligners, Unscented, With Storage Case (White)
If you don't like the grip handle, you can get flat chewies. These are the same in quality.
Unscented IXO Aligner Seater Chewies With Storage Bag for Invisalign Aligners (10 PCs) (White)
3. JES Orthodontics Chewies for Aligner Trays (all 4 colors) – Smart choice
If you want to have a collection of chewies with various colors and flavors, you can get this package.
It's the same type of product from the same brand I mentioned above, but different packages. It has got a lot of positive feedback as well.
As you have to use the chewies often during the treatment with Invisalign or clear aligners, you may have this collection.
They provide all colors and scent in this collection. So, you can enjoy it all together.
Pros
Easy to use
Compatible with Invisalign trays and any kinds of clear aligners.
Helps aligner seat perfectly on teeth
More durable and longer-lasting.
Hygienic and provides individual tamper-proof bags
All colors and scents in one package
Cons
Scents or flavors aren't very strong.
Products
JES Orthodontics Chewies for Aligner Trays, 4 colors, Total of 12 Chewies
4. Boao Aligner Tray Seaters Chewies Collection – Good choice
This aligner seater can also be a very good choice. The product review is also very satisfactory. Users also recommend these chewies as they have good experience with it.
It may not last long like other chewies I mentioned above. But, you get it at a very cheap price. So, if you want to save money, you can get this.
It's available in 5 different scents and colors, such as –
White- unscented,
Pink – strawberry flavored,
Purple – grape-flavored,
Yellow – orange-flavored and
Green – mint-flavored.
Pros
Very cheap
Soft and harmless
Non-slipping
Help seat the aligner trays effectively
Provides 5 Different colors and scents
Cons
Not so strong flavor
May split early sometimes
Products
20 Pieces Aligner Tray Seaters Chewies for Aligner Trays Chompers Aligner Trays 5 Colors
5. EverSmile Medical Grade Silicone Chew with Comfort Bite Technology
If you want to help your aligners seat on your teeth quicker and move teeth faster, these chewies will help you a lot.
It can close the air gaps between your teeth and Invisalign trays properly. This product is highly rated as well. Price may look a bit high but it's reusable and durable.
These chewies are a little bit different from other chewies. The aligner seaters consist of medical-grade silicone and Comfort Bite Technology to make the chewies.
Pros
Not too hard, not too soft
Safe and easy to use, don't slide around in the mouth
Durable
Reusable
Made from medical grade silicone
Hygienic
Contains comfort Bite Technology
Massages sore gums and relieves pain.
Can be cleaned with mild soap and water or diluted mouthwash.
Cons
Relatively smaller in size
High price
May get cracked early sometimes
Some flavors are weak
Products
EverSmile OrthoChews Medical Grade Silicone Chew with Comfort Bite Technology
6. OrthoBands Aligner Chewies (All 5 Colors)
This aligner seater can speed up the treatment by helping the trays sit perfectly on your teeth. A review of the product is also very satisfactory.
Available flavors are Bubble Gum, Pineapple, Mint, Grape, and Unscented. This brand is also well known. So, you can try this one as well.
Pros
Easy and comfortable to use
Provides 5 different scents and colors
Help fits the aligner trays effectively to the right place
Provides an individual tamper-proof patient bag
Can be cleaned with diluted mouthwash or soap
Cons
Expensive
May be worn out early
Products
OrthoBands Aligner Chewies (All 5 Colors)
7. UgyDuky Aligner Tray Seaters (10 Pieces 5 Colors)
If you look for various flavors and colors, you can go with these chewies, especially when no other better collections aren't available at the time of your buying.
Available flavors are – strawberry, mint, grape, orange and unflavored. The package is also very satisfactory. Most importantly, they can help seat the aligners well and relieve discomfort as well.
Pros
Consists of 5 different colors and flavors
Help fit the Clear Aligner Trays perfectly
Consists of Comfort Bite Technology
Convenient package
Easy and comfortable to use
Cons
Not available in a small package
Flavors and color may vary
Products
UgyDuky 10 Pieces 5 Colors Bubble Gum Scented Silicone Chewies with Comfort Bite Technology
Colorful and Scented Chewies for Invisalign
Sometimes, the specific flavor of specific brands may not be good. People find that it has no flavor or scent is less strong.
You can go with the following colorful and scented chewies as users give many positive reviews on them.
But, you should also keep in mind that the quality of products changes over time. Some brands improve the quality and some bands decline.
1. Mint flavored and green color
IXO Aligner Seater Chewies with Mint Scent
2. Bubble gum flavored and pink color
JES Orthodontics Pink Chewies
3. Strawberry flavored and pink color
Teheason Chewies Aligner Tray Seaters with Strawberry flavor
4. Pineapple flavored and yellow color
OrthoBands Aligner Chewies with Pineapple Scented
5. Sweet orange flavored and orange color
Lucktao Asus Sweet orange Orange
6. Grape flavored and purple color
OrthoBands Grape flavor chewies
When you get yellow, orange, and purple color chewies individually, those contain almost no flavor in most cases. So, you should go with a package that is listed on top, if you want all of these flavors.
How to buy Invisalign chewies – Buyers guide
First of all, Invisalign chewies must work effectively to serve the main purpose, that is helps the trays sit faster and speed up the treatment.
Besides, they shouldn't damage the aligner trays and can also prevent itself from being bitten. You should get the chewies that have these properties. Then, you can choose the color and scent that you like the most.
Factors you should consider before getting Invisalign chewies
The ability to place the aligners in the perfect position
The chewies must help the Invisalign trays to sit properly fast and move your teeth. This can help straighten your teeth quicker.
Longevity
Invisalign chewies shouldn't be broken easily. Some bad quality products get cracked or worn off easily as you have to bite on them. One chewie should last long.
Elasticity
The elasticity of the aligner seater is also very important. It determines whether it can work perfectly.
Comfort
Biting on the aligner seaters must be comfortable. It shouldn't alleviate your pain and discomfort, rather it may reduce soreness.
Consistency
An ideal aligner seater is neither too hard nor too soft. Too hard chews can damage the aligner trays whereas too soft chews can tear off easily.
Durability
Chewies should be strong enough to survive the pressure of biting.
Flavors and Colors
Though it depends on individual tastes, the brand that provides various flavors and colors are more liked by the people.
Why should you buy the Invisalign chewies?
Orthodontists may provide the Invisalign chewies only while starting the treatment. So, you have to buy it on your own as you need it during the full course of Invisalign treatment.
You have to use the aligner seater when you get a new set of trays every 1-2 weeks. Chewies help sit the aligners in the proper place and move teeth faster. This reduces the duration of treatment.
Moreover, when you bite on the chewies it increases the blood circulation and reduces pain and discomfort from aligners. Because of these causes, you must buy chewies.
Where to buy Invisalign chewies?
You can get the Invisalign chewies at online or local dental stores. However many exclusive products are available online with their reviews from users. So, you can order it online at any time (links are provided here).
How much does it cost?
On average, 5 pieces of Invisalign chewies from a well-known brand may cost you from $10 to $20. So, the price of a one-piece aligners seater can be $2 to $4. However, it varies from brand to brand.
Which Invisalign chewies should you buy?
You can buy Invisalign chewies that are more popular, highly rated, and come from a well-known brand.
You can go with JES Orthodontics chewies and IXO aligner seaters, as these are almost similar to the products provided by your orthodontist.
If you don't like them or if these aren't available while you are buying, you can get Boao and EverSmile's aligner seaters without any doubt.
Not all products are available in the store all the time, so I have provided a long list of chewies.
No matter which one you buy, you must know the proper method of using Invisalign chewies or you may damage the aligners or break the chewies.
Final thought
You should collect Invisalign chewies or aligner seaters to speed up the treatment by helping the aligners sitting in the right place on teeth.
Buy chewies from popular brands and know how to use them properly to get the maximum benefits. You can switch brands sometimes to check which products work the best for you.