Sometimes you may need to use dental wax with Invisalign or clear aligners to relieve pain or soft tissue irritation from the trays. But, You may wonder, What is the best orthodontic wax for Invisalign aligners?
You have to choose a product that sticks well with the aligners and lasts for a longer duration. Moreover, you should use products from a well-known brand.
Here, you will get a complete guide to choosing the best wax for Invisalign aligners based on reviews. Besides, you will also know how to pick a dental wax correctly.
Top 5 dental wax for Invisalign clear aligners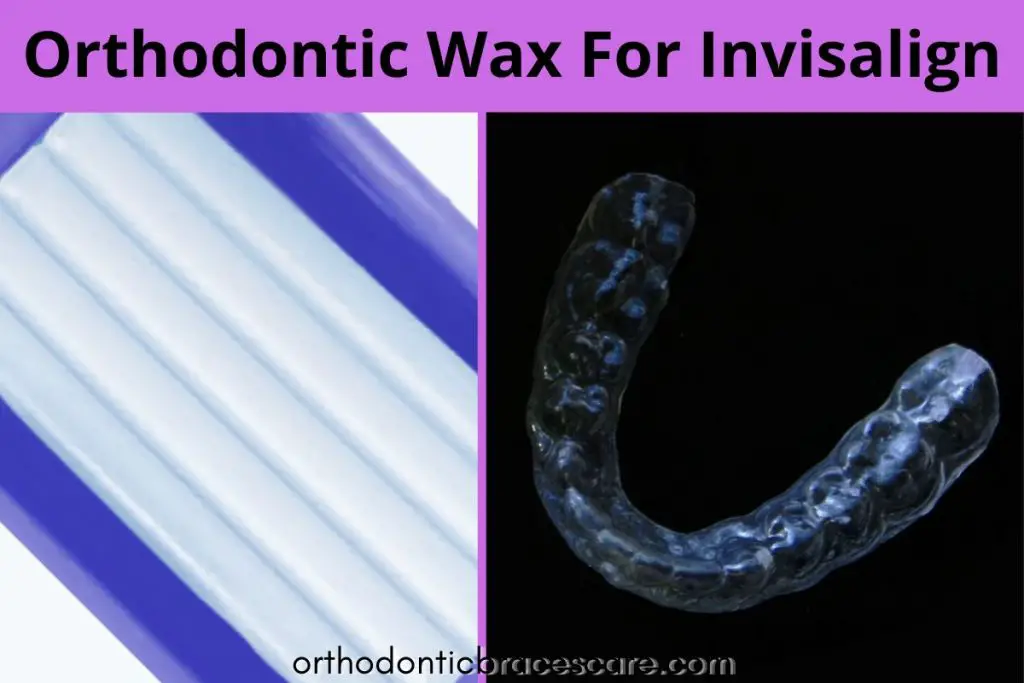 Here is the best orthodontic wax for Invisalign aligners with pros and cons:
1. Sunstar GUM Orthodontic Wax
This wax is the best selling orthodontic wax right now and got a lot of positive reviews. GUM orthodontic is not only helpful for braces wearers but also for clear aligner wearers. You can use the wax effectively with Invisalign to protect your cheek, tongue, and gums from the sharp edges of trays.
It also reduces pain and discomfort by separating soft tissue from the sharp edges and allows soft tissue to heal. Most importantly, these wax sticks better than a lot of similar types of products. It's also clear or tooth-colored wax.
That means, when you apply them, people can't notice as it matches the color of Invisalign and teeth very well.
It also provides a plastic container. So, you can store it nicely and carry it with you while traveling.
Pros
Clear wax or tooth-colored wax
Sticks better and lasts longer
Available in flavored and unflavored varieties
Provides a portable container to store in
Contains harmless substance
Easy to apply and remove
Relieve pain and irritation from the sharp edge of Invisalign aligners
Cons
Can't stick on a wet surface
Little bit rigid
Products name
GUM Orthodontic Wax, Mint with Vitamin E and Aloe Vera
Butler G-U-M Orthodontic Wax, Mint (Pack of 2)
2. Genuine Orthowax for Aligners
This brand provides you high-quality wax that works great with any kind of clear aligners. In fact, this wax is top selling orthodontic products and very popular. This ortho wax sticks better on the sharp edges of retainers than many bands. It's safe if you swallow it accidentally. You can apply it quite easily and it will last longer than other products.
Pros
Sticks better and works effectively with any aligner
Clear in appearance and matches the color of teeth.
Provides a portable container for each wax
Water-proof and last longer
Almost similar to the dentist's wax
Unflavoured
Easy to use and remove
Safe to use and edible
Relieves soreness and irritation by providing a barrier between Invisalign trays and gums, lips, tongue, and cheek.
Made of Medical grade paraffin wax
3. TecnidentUSA Orthodontic Wax
TecnidentUSA dental wax is a little bit different type of wax. It's made of Medical Grade Microcrystalline Wax (non-paraffin) and specially designed for optimal sticking and durability. However, it's safe to use and gluten-free. It can be very effective for clear aligners. Moreover, this wax is a top-selling dental product with a lot of positive reviews.
Pros
Unscented and Unflavored.
Medical Grade Microcrystalline Wax
Safe to use
Stick very well on the retainers or aligners and protect cheek and gums
Easy to use and remove
Great durability and Flexibility
Good elasticity and melting properties
Provide individual carrying cases
Cons
Little bit hard
May need a bit of effort to apply due to hardness
Products name
TecnidentUSA Orthodontic Wax for Braces – Unscented and Unflavored
4. DenTek Wax With Fresh Mint Flavour
This wax is another great option for Invisalign. It's clear wax and doesn't affect your appearance. You get the wax in several packages and the price is also very affordable.
This works nicely with clear aligners. You can cover the sharp edge of trays easily as the wax sticks quite well. Though it's a little bit softer and may not last long if you don't apply it on a dry completely dry surface.
Pros
Works effectively on Invisalign trays
Very affordable
Transparent looking and aesthetically pleasing
Helps reduce irritation from sharp edges of Invisalign trays
Easy to apply and safe to use
Provides carrying case
Cons
Softer wax and may not last longer
Small in amount
Products name
DenTek Wax For Braces Fresh Mint
5. AZDENT Orthodontic Wax
You can use this wax with any type of aligner. It sticks well when you apply on the sharp margin of the Invisalign tray to protect your cheek, tongue, and gums from getting hurt. This product is also very popular.
You will get it in different flavors. An unflavoured version is also available. The price is also very reasonable. But, this wax may melt easily. So, you have to keep it below the 25-degree temperature.
Pros
Affordable price
Available in both flavored and flavorless varieties
Medical-grade paraffin-based wax
Clear wax
Easy to apply and remove
Provides individual carrying cases for wax
Covers Invisalign and aligners nicely
Protect cheek and gums from the sharp edge of aligners
Cons
Very soft and sticky
May not last longer
Products name
Unscented AZDENT Dental Wax for Braces
AZDENT Dental Wax Oral Care Orthodontics Wax
AZDENT Orthodontic Wax for Braces Mint Flavored
Honorable mention – Dental Ease Orthodontic Wax
This wax is another good quality product, though I have mentioned it in the last. Dental ease wax has got many positive reviews. Users recommend this product as well. Invisalign wearers found that their new product works really well on Invisalign trays.
Pros
Medical-grade paraffin-based wax
Comfortable, safe, and easy to use
Tasteless, odorless, and clear wax
Very cheap
Strong wax
Easily molded into the retainers
Stick nicely on the aligners
Provides individual cases
Cons
May feel too hard
May need the effort to put on for the first time
Products name
Dental Orthodontic Wax for braces – Odorless, Tasteless
The Best Dental Wax Alternative for Invisalign – OrthoDots CLEAR Dental Silicone
If you don't want to put those dental wax on your Invisalign, OrthoDots CLEAR Dental Silicone can be the best choice. The new product of this brand is the best selling dental wax alternative currently and highly rated.
Many orthodontists also recommend this as a substitute to dental wax. This silicone even works better on Invisalign trays than braces. People also like this as it's more transparent (they claim, it's 17x) than dental wax and doesn't interfere with esthetics.
An interesting fact is you can apply this silicone on a wet surface because it contains a moisture-activated adhesive layer. It's also very easy to use and some people find it lasts longer than many dental waxes. When you clean your Invisalign retainers, you can remove the silicone easily.
Pros
Work effectively on the Invisalign trays and any clear aligners
Easy to apply and remove
Very comfortable
Longer lasting
More transparent than dental wax
Very pliable and extremely moldable
More hygienic
Made of clear medical grade silicone
Work on the wet surface as well
Protect gums, lips, tongue, and cheek from the sharp edge of aligners
Helps relieve pain and irritation by creating a barrier between Invisalign trays and soft tissue.
Cons
May not stick well sometimes if the surface is too wet.
May not stick on the teeth
Little bit expensive
Products name
OrthoDots CLEAR Silicone Dental Wax Alternative for Pain Caused by Braces
Know how to use dental silicone and find out other alternatives.
How to buy dental wax for Invisalign aligners
Get dental wax that can work effectively with Invisalign or clear aligners. It should cover all the sharp edges of the aligners and reduce pain and discomfort. Look for the qualities that the orthodontic wax should have to serve these purposes.
Moreover, buy the wax that is worth the cost. You can get the wax that also provides carrying cases for each wax. This helps maintain hygiene. But, the most important thing is the quality of the wax. Get a wax from a popular brand. You can pick one from my top above list without any doubt.
Here are the things to consider about dental wax before getting one.
Stickiness
Make sure that the wax sticks well to the sharp edges of the Invisalign tray or aligners.
Longevity
The wax should last longer in your mouth. You need to replace it after every meal and cleaning schedule. Be sure it sticks until the time comes.
Ease of applying
An ideal orthodontic wax can be easily put on the edge of the clear aligners.
Ease of cleaning
The wax should be removed from the aligners completely and easily.
Separating soft tissue from clear aligners
The dental wax should create a barrier between rough edges of Invisalign trays and soft tissue of your mouth and help reduce pain and irritation.
Consistency
The dental wax should neither be too soft nor too hard in consistency.
Melting temperature
You may not find out the melting temperature of a certain product. But, make sure that it doesn't melt at room temperature.
Comfort
The wax should be comfortable to use and don't hurt your gums or cheek while using them.
Which dental wax should you buy for Invisalign?
You can buy any product that I have listed here. Among them, Sunstar GUM wax and Genuine Orthowax are at the top. Try to get one of them. But, they aren't available or you don't like them, you can go with the other products that I mentioned.
If you are allergic to any product, take help from a healthcare provider or a doctor, and change the brand. If you swallow a portion of orthodontic wax while eating or drinking, nothing to worry about. It's made of a harmless product. But, you should try to avoid this from happening.
Keep in mind, no matter what type of product you get, it can't stick well or fall early if you don't follow the proper steps of applying them. Applying wax on braces and Invisalign is almost the same.
Make the surface dry before applying and follow all the steps I mentioned in my other article to get the maximum benefits.
Final thought
Sometimes you may need dental wax for Invisalign to reduce soreness and irritation from the sharp edge of Invisalign trays. Try to buy wax that works properly with the aligners. Get the orthodontic wax from a well-known brand and must follow the appropriate methods of applying and removing it to make the most of it.