After your child gets braces to straighten teeth, you get worried about what should you give him during the lunch break in school. So, you try to find the school lunch ideas for kids with braces.
You should give him braces-friendly food and avoid gods that can damage braces. You have to be careful of the ingredients of your recipe.
In this article, we'll take a look at the ideas and 15+ recipes for school lunch with braces.
But, before we start we want to inform you which foods your child should take and which foods should avoid.
Foods to avoid for school lunch with braces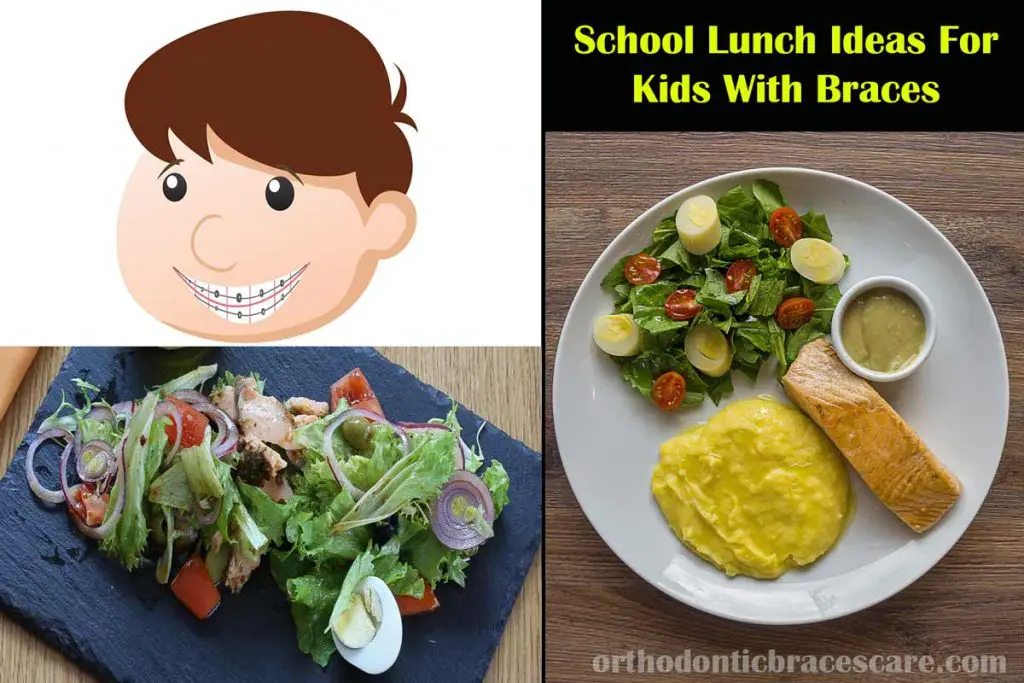 Do not give your child a solid lunch, as it may damage the braces. It is important to be more cautious during school time because it is hard to manage if there is an emergency at that time.
You must avoid sticky foods. Cleaning the mouth and teeth during school is a difficult task. Moreover, you cannot even see if your baby is cleaning his mouth.
So he or she should not eat sticky foods even if by mistake. This type of food gets stuck between the tooth and bracket and damages the tooth.
The risk of getting tooth decay is increased. In fact, someone can't clean those food debris thoroughly while wearing braces.
When sending your baby to school, you must tell him or her not to eat chocolate or such foods. You also have to avoid sugary foods. These foods aren't good for braced teeth.
If your child can't clean teeth properly after taking the lunch, he or she may end up with tooth decay because of that.
Don't give your child a food like a burger that needs to open mouth wide while eating, especially during wearing rubber bands.
Types of foods to eat for school lunch with braces
You may wonder what types of food you should give your child for lunch. Make a recipe that is soft, non-sticky, and non-surgery.
Prefer food that can't harm that much teeth even if your baby isn't able to clean the teeth properly. If the food is soft and nonsticky, it can easily clean from the mouth with normal mouth rinsing.
However, you should teach him or her how to clean teeth thoroughly with braces. A baby should brush and floss the teeth regularly.
But, after getting braces tightened, kids should have a softer diet. Check our other article.
15+ Braces-Friendly School Lunch Recipes and Ideas
Here are some recipes you can cook for school lunch for your kids with braces-
1. Avocado egg salad recipe
This is a healthy and easy to cook dish for your kids. It's prepared by mixing scrambled eggs with avocado, greek yogurt, salt, pepper, and bread. You can add other ingredients if you want.
Add cooked corn on the cob, vegetable, and fruits that are braces-friendly to fulfill the lunch pack. With that, you can give apple slice or berry.
Learn the recipe.
2. Chicken salad
The chicken dish is a favorite food for kids. You can cook chicken salad for lunch if your kid wearing braces.
Other ingredients that require are chopped celery, sliced almonds, salt, pepper, cherry tomatoes. pecans and cucumber. This recipe is also very popular in the USA and Europe.
It's also very easy to cook and easy to customize. You can add sun butter or almond butter, shredded coconut, raspberries, and blueberries to the lunch box with this recipe.
Learn the recipe.
3. Peanut Butter, Honey & Pear Open-Faced Sandwiches
It's another healthy and easy to make the recipe. You can make it if you are in a hurry someday.
Ingredients required for this are chunky peanut butter, honey, salt, shredded cheddar cheese, and sliced pear. You can also use sliced apple instead of pear.
Your child can get all the health benefits of honey and peanut butter.
Learn the recipe.
4. Tuna Salad
You can cook a tuna salad for lunch. It's another easy to make recipe and healthy. Other ingredients you need to cook are chopped celery, lemon juice, pepper, salt, and red onion.
You can also mix broccoli, sliced cucumbers, and cherry tomatoes with it. Add marinara sauce and spiralized zucchini in the lunch box with the salad. You can also give unsweetened organic coconut flakes or boiled eggs.
Learn the recipe.
5. Fruited Turkey Wraps
This is a delicious and healthy dish and your kid's going to love it. The main ingredients are sliced deli smoked turkey, wheat tortillas, fat-free mayonnaise, orange juice, shredded Chinese or napa cabbage, curry powder, mandarin oranges, and dried cranberries.
Learn the recipe.
6. Use-It-Up Frittata
The name of the recipe is unique, but kids are gonna love this. Leftover roasted vegetables, eggs, cheese, cooked grains, finely chopped tender herbs, ground black pepper, salt, and olive oil are the ingredients that you have to use to cook the dish.
Learn the recipe.
7. Strawberry Pasta Salad
Let's talk about some other variation that your kid may love. If your kid likes strawberry, you can make this pasta recipe.
The main ingredients are uncooked mini farfalle or other bow tie pasta, and fresh strawberries. Others are lemon yogurt, ginger, lemon juice, slivered almonds, and others.
Learn the recipe.
8. Homemade Vegetable Guacamole
You can prepare vegetable guacamole easily and quickly for lunch. It's a good choice for braces wearer. It's a sugar-free, low carb, and very nutritious recipe.
Add broccoli, celery, cherry tomatoes, cucumber, smoked salmon, and spiralized zucchini and boiled eggs with the foods to the lunch box.
Learn the recipe.
9. Thai Chicken Lettuce Wraps
You can make a Thai lunch sometimes for lunch. And, you can cook this recipe easily. Kids may like this as it's a chicken recipe.
Learn the recipe.
10. Broccoli and Egg Fried Rice
Another Asian rice meal is broccoli and egg fried rice. It can a perfect lunch for kids with braces. It's healthy containing all the nutrients. You can also customize the ingredients.
Learn the recipe.
11. Easy Asian-Style Chicken Slaw
You may cook Asian chicken recipes sometimes and give your child for lunch. We have one dish for you here for braces wearer. You can prepare it quickly and easily. Actually, its a combo of noodles and chicken.
The main ingredients are ramen noodles, rotisserie chicken (skin removed, shredded), coleslaw mix, finely chopped green onions, and reduced-fat Asian toasted sesame salad dressing.
Learn the recipe.
12. Parmesan Chicken Cutlets
Children wearing braces can like this recipe because it's very delicious. You may like to cook this as it's easy to cook.
The main ingredients are eggs, skinless and boneless chicken cutlets, panko, flour, grated parmesan, mustard powder, salt, pepper, olive oil, and lemon.
Learn the recipe.
13. Chicken Tikka Masala
If your child likes Indian recipes, you can cook the chicken tikka masala. This is a gravy dish. You can serve this with rice. You may try sometimes for lunch.
Learn the recipe.
14. Turkey Taco Salad
Another turkey recipe can be the Turkey Taco Salad for kids with braces. You need ground turkey, pepper, garlic cloves, chopped onion, salsa, chili powder, torn romaine, canned kidney beans, chili powder, and fresh cilantro leaves. You can also customize the recipe.
Learn the recipe.
15. Romesco Pasta Salad with Basil and Parmesan
It's a very special type of pasta dish, which you can serve at lunch. The special ingredients required are Basil and parmesan.
Learn the recipe.
16. Noodle Salad with Chicken and Chile-Scallion Oil
Kids like noodles and chicken. So, this can be a great choice for lunch. It's also a friendly recipe for braces.
Learn the recipe.
Conclusion
You can make your own ideas and recipes for the school lunch with braces on your teeth. Just you have to be aware of the types of foods that your child can eat while wearing braces. Choose the ingredients wisely so that they can't hard the braces and also make it easier to clean the teeth.